Happy New Year! (Pix too!)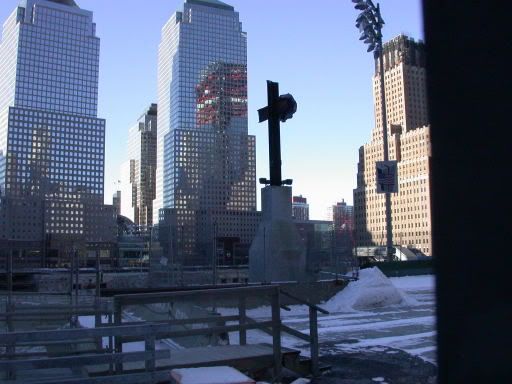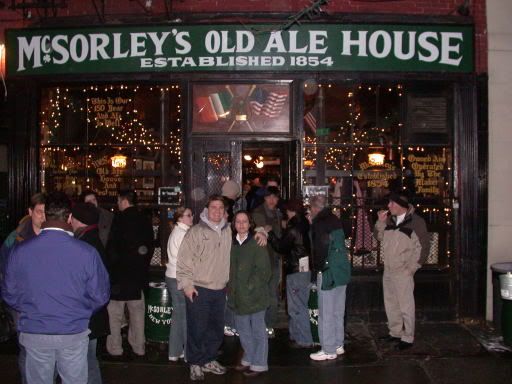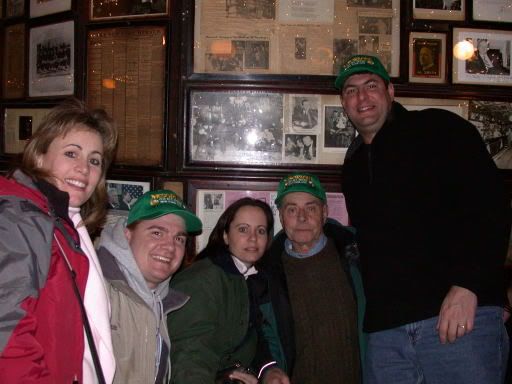 (First Picture-Ground Zero)
PHOTOS COURTESY OF JEFF VALENT (far right! in above pic and inside joke!) . (check out
www.jeffvalentstudios.com
) From left to right- Anita Valent, Jeff and Michelle, Dennis Coughlin, and Jeff V.
Just got back from a visit to NY this past week. Here are some things I learned:
1) The universal choking sign "signage" (body with hands crossing throat) is in every resturant in NY. I first noticed it in NYC a couple of days after Christmas. Good health idea, or bad food? You decide..
2) Starbuck's Coffee has colonized NYC. Every corner there's a Starbucks. Ground Zero-Starbucks; Statute of Liberty- Starbucks; Chinatown-Starbucks.
3) McSorley's Irish Pub- A must visit. It's the oldest Irish Pub in NYC. Lots of history and presence in the place. "Whitey" is the guy who GETS YOU a seat. You don't just go in and sit at a table. And they only serve two kinds of beer- the dark kind and the lighter colored kind. Both are most excellent!
4) The Toys R Us at Times Square has a Ferris Wheel inside of the store.
5) A New York hot dog is REALLY good. It does not beat Paul's Place Hot Dogs in Rocky Point, NC, but NY hot dogs have gained my nod from now on....
6) For 16 month old children, you can mix appropriate levels of tylenol or motrin with Robitusson doses and Zythromax is a good antibiotic.
7) Never go to NYC when it is about 12 degrees outside, in tight spaces, and with someone has the common cold. The wind chill will put you in negative digits, the tight spaces will physically challenge you, and the common cold will win. Oh yeah, go back and read #6.
8) A little NY politics--in Broome County NY. The county executive (manager-Party unknown) was beaten in the general election by the Register of Deeds (Dem) who then fired the Purchasing Director (Rep) who will now probably be appointed Register of Deeds by Gov. Pataki.
9) Remote elecronic starters on Dodge vehicles are 'da bomb'. Just hit a button on your key chain and your car engine starts right up. Its like magic...but it could create challenges for the mob.
10) Your check in baggage should be 50 lbs max per bag. I came in at 73 lbs on the return trip. If you question your baggage weight, you should be at the airport at least on hour in advance to then make adjustments! 15 minutes just is not enough time.
Oh yeah, and Guilford Alumnus and former teammate Tony Womack is making $2 million this year as a Yankee. I would normally think that's alot of money, but parking is probably $80 a day in a parking garage. A cab is outrageous- like $4.50 to get in and $2.00 for every 1/5 mile or something. Tony should get more, I hope he has built-in incentives- he's getting robbed.