US State Department's International Visitors Program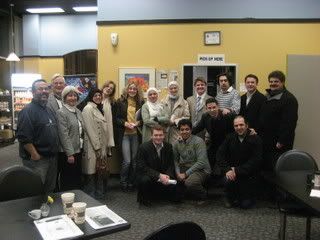 I had the honor of speaking to a group of International Young Muslim Leaders at the Halal restaurant Zaytoons last night. Participants are visiting a number of cities in the United States over a three week period. The group came from Germany, Slovak Republic, Netherlands,Ireland, Sweden, United Kingdom, and Croatia.
The group visited NC A&T University and High Point University. I want to thank Massoud Awartani and wife Annah, owners of Zaytoons, for being great hosts with wonderful food. I found the participants thoughtful and we had a healthy discussion about builiding constituencies, networks, and coalitions as well as the need for global leadership in the 21st century.
I would also like to thank Imam Bahdi Ali of the Islamic Center of the Triad for his insights and conversation regarding our local Islamic community. Special thanks to Beth Robertson and Brooks Westwater through the Piedmont Triad Convention and Visitors Bureau.