NC PREP MEETING WAS SUCCESS!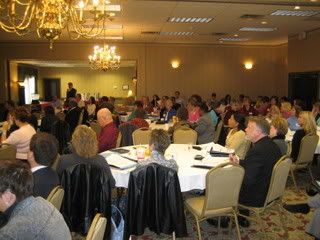 120 participants from around North Carolina convened at the Greensboro Regional Realtor's Association to discuss PREP (Property Records Education Partners) and E-Recording of Land Records yesterday from 9:30 am to 1:30 pm.
PREP chapters
are a public/private initiative to get property records players together and discuss issues of common concern. Wow! We really had a great turn out. 60 public and 60 private. From the public sector: 35 Registers of Deeds in NC; NC Secretary of State's office; NC Dept. of Cultural Resources. From the private sector: NC Land Title Association; NC Mortgage Bankers; Tim Kent-NC Association of Realtors; Real Property Attorneys; Paralegals and Title Abstractors.
Special thanks to all who participated and those on the agenda including: Wayne Rash, Caldwell County Register of Deeds; Kevin Green, Greensboro Realtors Association; and Greg Niles, Guilford County Planning Director. "What is PREP?" was presented by Brenda Bell, Iredell County Register of Deeds and Jim Weeks, local attorney and former chair of the Real Property Section of Greensboro Bar Association; "E-Recording 101" was presented by Judy Gibson, Mecklenburg County Register of Deeds and consultant Ken Roughen.
Our "E-Recording of Land Records" panel discussion included Kathy Dils of BB and T, Mortgage Bankers, and Chair of the NC Electronic Recording Council (ERC); Matt Powerd, an attorney with NC Land Title Association and on ERC; Alan Fergeson, attorney with The Firm at Fisher Park in Greensboro; Ozie Stallworth, E-Notarization Analyst and Director with NC Secretary of State's office; Amanda Garrent, Person County Register of Deeds; and the panel was moderated by Darrell Eichman of Eichman Software Consultants.
The networking and question/answer periods were outstanding and I learned a great deal. Paul Gibson had to pull out as a speaker at the last minute due to the Honda Jet announcement at 10 am. (And I do forgive Paul for that!) After being notified, I spent two hours looking for an elected official within 100 miles to bring greetings--all were attending the Honda Jet ceremony. Finally, Greg Niles graciously filled in and did a great job.
SOOOO let it be known...at 9:37 am before a crowd of over 100 participants, Jeff Thigpen, Register of Deeds, announced that Honda Jet would be locating its world headquarters in Greensboro. Thereby preempting their announcement.