Book Recommendation: The Secret Message of Jesus...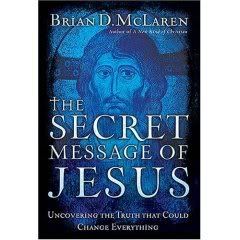 This one swings for the fence and...(catching breath rounding the bases) and the ball is in the parking lot over the left field fence! While this is a book about that focuses on Christinity, skeptics will get a great deal out of it as well.
Brian McLaren has written a masterpiece of Christian literature. About 225 pages, it's a book that makes you think about the social, political, religious, and economic enviroment of Jesus lived in. This book is disturbing in a hopeful and challenging kind of way. Be prepared to have your world rocked.
After reading, you will see this world anew.