County Employee Night at Hoppers Game!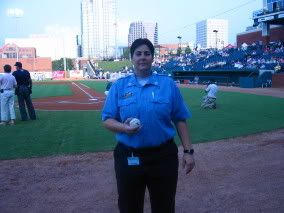 "Throwing out the first pitch was Guilford County EMS "Paramedic of the Year" Jan LaFollette.
Jan was nominated by her co-workers and peers at Emergency Services for this Award. As a Paramedic, Jan, and the County's 200 Emergency Services personnel are the first ones on the scene to provide advanced emergency medical care for over 440,000 Guilford County citizens.
Great night for all and appreciation to 2500 Guilford County Employees serving over 440,000 citizens.