Roy, "I got your back!" Go Heels!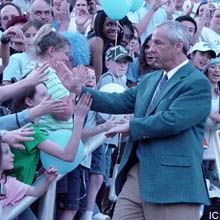 I told someone the other day I went to a Final Four once. I watched a guy play in it that grew up about 10 miles from my home. I bagged his grandfather's groceries when I worked at Wilson's store in Burgaw, NC. Yep, that guy was Michael Jordan. The Final Four was in New Orleans and I saw the shot in 1982.
I'm not gettin' all Dionne Warrwick....but I'm feelin' the Heels this year. Check it out---A coach whose overdue for a championship (like Dean Smith in '82); In a Final Four with Louisville again (like '82); and UNC's playing the second game of the semi-finals like '82. And oh yeah, its 23 years later. Like I said "I'm feeling it..."
Ok, I may be reaching, but I got your back Roy!