Smash Mouth Volleyball!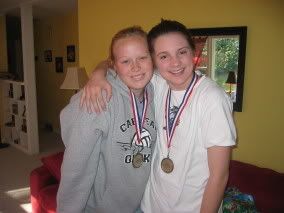 This past weekend the Cape Fear 15 yr. old Bronze Team won a Gold medal over at Forsyth Country Day School in Winston-Salem. Brittany "Beast" Brown (who will attend Hoggard HS) and Cassie "Wy-can'tgethernameright" budding Pender Patriot volleystar with their gold medals!
It was a great game against the team from Asheboro. While I pulled for the home team from Cape Fear, I thought the Asheboro team girls were great and their coach showed real leadership. The match went to third and final game. Brittany served out the win!